I haven't made this yet but it sounds delicious. I love cauliflower steaks as well, but Brian is no fan of cauliflower. Which means it would be all for me!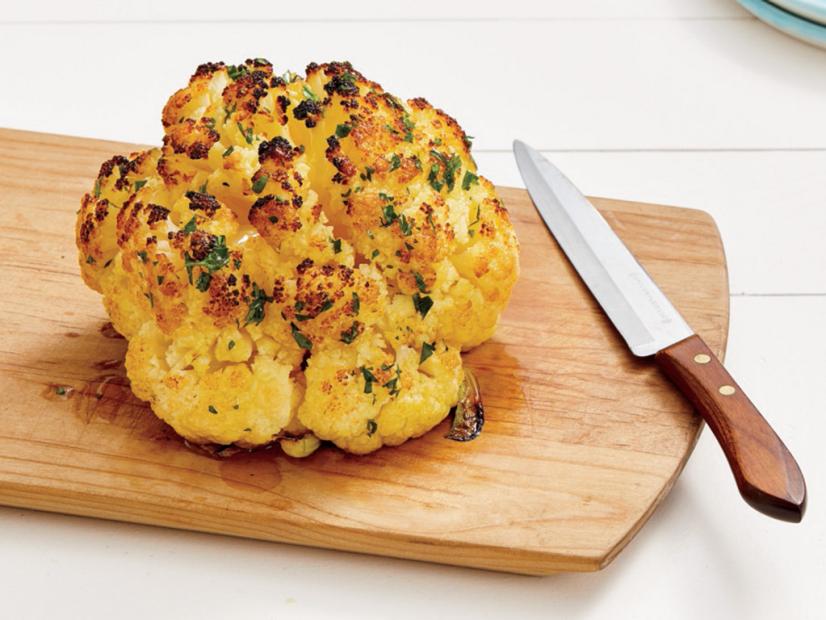 Garlic Whole Roasted Cauliflower
Serves 4. Recipe from Food Network Magazine
1 large head cauliflower (2-1/2 to 3 lbs.)*
6 sprigs thyme
6 cloves garlic (3 smashed, 3 thinly sliced)
2 bay leaves
2 teaspoons coriander seeds
2 teaspoons black peppercorns
2 stalks celery, roughly chopped
1 shallot, roughly chopped
Zest of 1 lemon (in wide strips)
1 cup dry white wine
1/4 cup sugar
Kosher salt
1/4 cup extra-virgin olive oil
Freshly ground pepper
2 Tablespoons chopped fresh parsley
1. Preheat the oven to 450°F. Trim the cauliflower: Cut the stem flush with the bottom. Cut a few slits into the core extending into the thick branches of the cauliflower (keep the florets intact). Put 3 thyme sprigs, the smashed garlic, bay leaves, coriander seeds and peppercorns on a square of cheesecloth and tie into a bundle. Combine 12 cups water, the celery, shallot, lemon zest, wine, sugar, 1/3 cup salt and the cheesecloth bundle in a pot large enough to submerge the cauliflower. Bring to a boil, whisking to dissolve the salt and sugar. Carefully add the cauliflower core side down and cook until there is a slight resistance when pierced with a knife, about 15 minutes. (It's OK if the top of the cauliflower pops up during cooking.) Remove the cauliflower to a baking sheet.
2. Meanwhile, make the garlic oil: Combine the remaining 3 thyme sprigs, the sliced garlic, olive oil, 1/2 teaspoon salt and a few grinds of pepper in a small saucepan. Cook over medium heat until the garlic starts browning, 3 to 5 minutes. Discard the thyme. Brush the cauliflower with half of the oil, leaving the sliced garlic behind.
3. Roast the cauliflower until browned and tender, 30 to 40 minutes, brushing halfway through with the remaining garlic oil; reserve 1 teaspoon garlic oil and the sliced garlic.
4. Transfer the cauliflower to a cutting board or platter using a spatula. Add the parsley to the reserved garlic oil and spoon over the cauliflower. Cut into wedges.
*Cook's Note: Always precook whole cauliflower before roasting -- otherwise it will dry out in the oven before it gets tender.