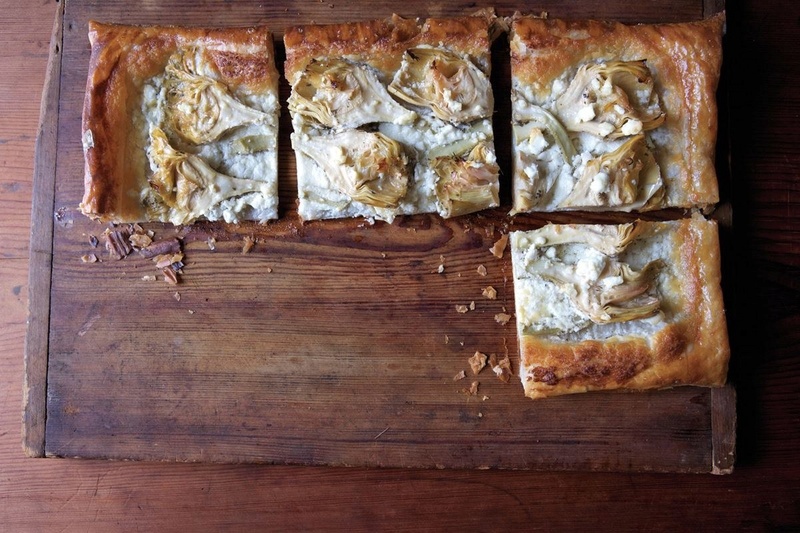 Since we just talked about artichoke hearts, here's a recipe I've made before that we really liked.  Not my picture of it but one I found posted on the Net.
Artichoke and Feta Tarts
Makes 6 servings.  Recipe from Bon Appétit May 2013
If you prefer, swap out the marinated artichoke hearts for drained canned or thawed frozen artichoke hearts.
1/3 cup heavy cream
4 ounces feta, divided
Kosher salt, freshly ground pepper
1 (14-ounce [1 sheet] or 17.3-ounce [2 sheets]) package frozen puff pastry, thawed
All-purpose flour (for work surface)
2 (4-ounce) jars marinated artichoke hearts, drained, halved
2 Tablespoons olive oil
1 large egg, beaten to blend
1. Preheat oven to 425°F. Blend cream and 2 ounces feta in a food processor until smooth; season with salt and pepper.
2. If using 14-ounce package of puff pastry, cut in half and roll out each half on a lightly floured surface into a 16x10" rectangle. (If using 17.3-ounce package, use 1 sheet of pastry for each tart.) Transfer each piece of pastry to a parchment-lined baking sheet. Using a paring knife, lightly score pastry (do not cut all the way through), leaving a 1" border.
3. Spread feta mixture over pastry, dividing evenly and staying within border. Arrange artichoke hearts over feta mixture and crumble remaining 2 ounces feta over; drizzle with oil. Brush pastry border with egg.
4. Bake tart until pastry is puffed and beginning to brown, 10-15 minutes. Reduce oven temperature to 375°F and continue to bake until pastry is deep golden brown and cooked through, 20-25 minutes longer. Serve warm or at room temperature.
Do Ahead:
Tart can be made 2 hours ahead. Let stand at room temperature.